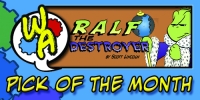 Unexpectedly, Ralf the Destroyer is getting some press on two fronts. I was contacted by Todd McElmurry, who is a contributor for Webcomic Alliance, letting me know he had been reading Ralf the Destroyer and wanted to choose it for his "Pick of the Month". The article is up now on the Webcomic Alliance website and is a very well written and entertaining summary!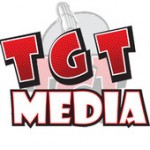 The second interview has been in the chute for a while. Kurt Sasso of TGT Media had originally had me scheduled to do an interview with him on the TGT Media podcast in November but moved it up to September 1st! Kurt is a generous host and I very much appreciated the opportunity to join him on his show and talk about Ralf!
This was my first audio interview, so of course there were some technical issues and I sounded like I'd been drinking Mountain Dew by the pint with Cappuccino chasers, but Kurt was great about it and I would not hesitate to be a part of the show again. The Ralf the Destroyer podcast (#269) is available on the TGT site and on iTunes.