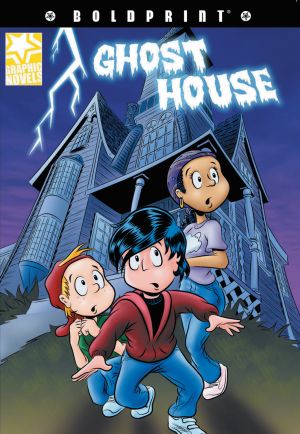 On a slightly different topic, I received my copies of Ghost House in the mail yesterday. Ghost House is a Graphic Novel project I did last year for Rubicon Books' (award winning) BOLDPRINT Series.
BOLDPRINT Graphic Novels are leveled using an extensive list of criteria, allowing teachers to address each individual's reading abilities. Ghost House was written by Jayn Arnold and Glen Downey and illustrated by Scott Lincoln and is aimed at 4th grade readers.
The synopsis is as follows:
Charlie O'Dell is not afraid of anything. He is especially not afraid of ghosts, since they don't exist. To prove his point, Charlie signs up for his favorite reality show, Ghost House. On the show, Charlie will lead the other participants to victory without getting scared … or so he thinks.
The art director, Brandon Koepke, had this to say: Of projects I've overseen, Ghost House is one of my favorites. It has a very consistent look and the expression and drawing is very good. Scott's style is reminiscent of some of the most successful newspaper style comics. It got good reactions all along the board.
Links to where the book is sold:
www.oupcanada.com
www.brightpointliteracy.com
Interior art is in my portfolio at:
scottlincoln.daportfolio