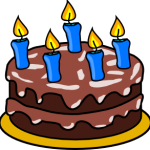 Today, November 16th 2010, marks the one year anniversary of continuously updated Ralf the Destroyer comic strips on this web site. To date that racks up 161 comic strips (mostly dailies and few Sundays). It's not yet enough to publish a collection (which would be an awesome way to celebrate) but I think it's a fine start.
Anyhow, I have decided the best way to celebrate is with a prize for one of the readers. So for each comment left on the web site prior to this day, I will write a small ticket with the commenter's name on it (which adds up to quite a few tickets actually), throw them into a big jar, jumble them up and draw out a name. The winner will receive a hand drawn spot illustration (brushed with real India ink, not marker) and a copy of the first issue of the Ralf the Destroyer ashcan comic that sold at the Baltimore Comic Con. I will announce the winner here on Friday (November 19th 2010).
So good luck to you all and thank you for reading Ralf the Destroyer!