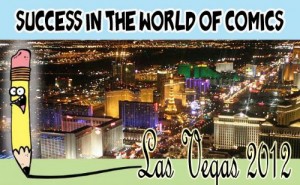 Well I've booked my flight, my room and I'm all signed up for the "Success in the World of Comics"seminar in Las Vegas. Looking at the list of speakers, looks like it's going to be a great opportunity to meet some great folks in the industry and obtain important information and tools to help take Ralf the Destroyer to the next level.
Some of you may know that Ralf appears on Comics Sherpa and mirrored to the GoComics Site. I did it to try different audiences and see how newspaper readers would respond vs web comic readers and the comments have been pretty encouraging on both fronts, here's one from the GoComics site:
That's my goal, Ralf the Destroyer running daily online and in newspapers nation/world wide and I'm hoping this trip will be a step forward in that direction.