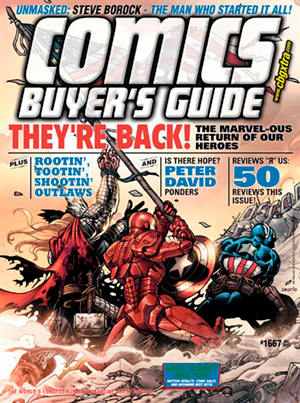 I just spent my day on a whirlwind road trip to local comic book haunts to pick up the current (July) issue of Comics Buyer's Guide #1667. Why do such a thing? Well, because this very web comic gleaned a write-up in Kris Manty's column Alien Invaders from the Internet in this very issue!
While most shops were perfectly happy to order me some more copies many of the shops were sold out or only special order. Shops I visited today were Omni Comics and Cards in Bristol, CT – My Mother Threw Mine Away in Watertown, CT – Legends of Superheros in Middlebury, CT and a few books stores along the way. Omni had what I was looking for and Legends was large and well displayed. By far the most personable was Jack at My Mother Threw Mine Away who was happy let us look around his shop (and let my son pet his giant St. Bernard who sauntered about the shop) on a day he was normally closed and before his store was even officially open.
Anyhow, if you have a chance to pick up the issue, please do. If you are unable to then just click the above cover image to download a pdf of the article.
I'd also like to thank Kris Manty and her editors, there at Comics Buyer's Guide, for including me in their great magazine!